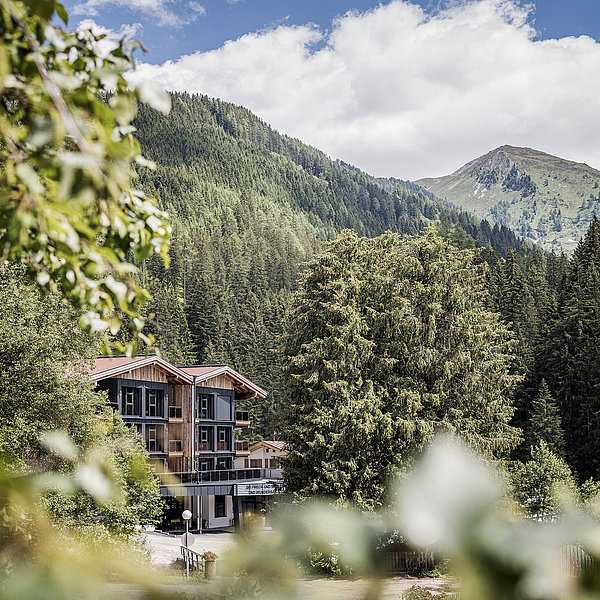 Time for excursions
WHAT SHOULD NOT BE MISSING FROM YOUR ZILLERTAL VALLEY BUCKET LIST.
In the crystal carriage of the Zillertalbahn your eyes will sparkle, your heart will beat in the mine tunnel and your knees will tremble in the high ropes course. Cool hotspots are a dime a dozen here. The most popular excursion destinations can be reached from Hotel Kröller in less than half an hour by car (the superhero flight time not included).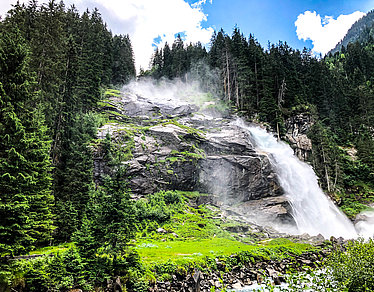 EUROPE'S LARGEST WATERFALLS
Impressive, mystical, unique. With a total drop of 380 meters over three cascades, the Krimml Waterfalls in the Hohe Tauern National Park are the largest waterfalls in Europe and even rank 5th worldwide. The whole family will be fascinated by the roar of the water masses and the fine spray.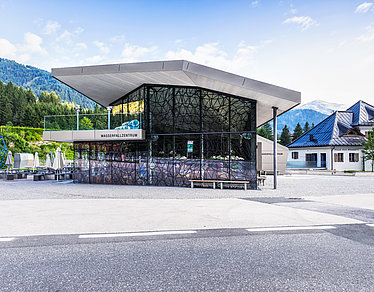 EXPERIENCE WHAT WATER CAN DO
In the Krimml worlds of water at the foot of the Krimml Waterfalls you can experience amazing, unique and never-before-seen things. Highlights include the waterfall centre with the ultimate underwater experience, the house of water with interactive water cinema and the outdoor area "Aquapark" with play and experiment stations.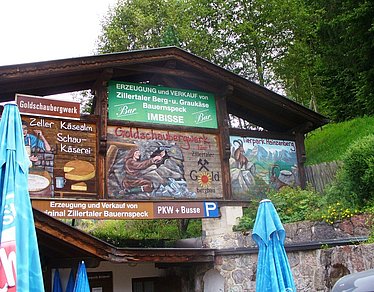 Goldbergwerk Zillertal gold mine
WORTH A VISIT? WORTH ITS WEIGHT IN GOLD!
Who has never dreamed of finding gold? The Hainzenberg gold mine shows you just how adventurous gold mining really was. Here you get an insight into the life of the miners and learn that the precious find came with great potential for conflict. The return journey from the mine takes place on the original Zillertal Goldexpress.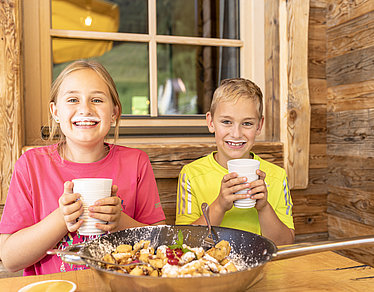 FROM THE COW TO THE CHEESE
The Hochzeller Käsealm is a 150-year-old alpine hut that has been faithfully reconstructed and houses a small cheese-making museum. Experience how natural alpine milk is processed in the traditional way to make original Zillertaler Berg- und Graukäse cheese. The Hochzeller Käsealm is at the starting point of the guided tour through the gold mine.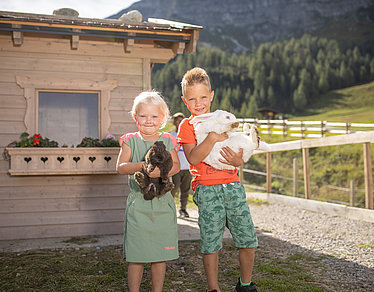 Tierpark Hainzenberg animal park
Directly adjacent to the Hochzeller Käsealm is an extensive animal enclosure with fallow deer, red deer, roe deer, chamois, ibex, mouflon, small game and many small animals. Particularly impressive is the population of roe deer and stags, which can be met at very close quarters.
Steam flows into the cylinders and the locomotive trundles through the Zillertal valley at 35 km/h. The narrow-gauge railway still runs with a steam locomotive from Jenbach to Mayrhofen, just as it did when it was commissioned in 1902. A special highlight: the crystal wagon, in which 62,000 Swarovski crystals sparkle. Get in and allow yourself to be enchanted by the hissing and pounding.