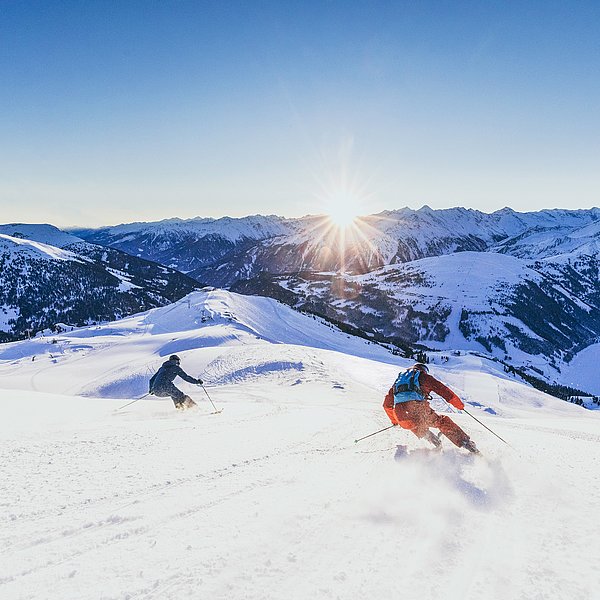 Time for a break from the slopes
BUT: THE SNOW MUST GO ON.
Do you love the slopes, but also like to take it easy from time to time and look for total tranquillity surrounded by nature? Then a win-win(ter) situation awaits you in Gerlos! You will be surprised how much fun there is to be had off the slopes. Thunder downhill on a toboggan, strap on your snowshoes or glide towards your happy place on the cross-country trails: Gerlos is THE place for winter sports.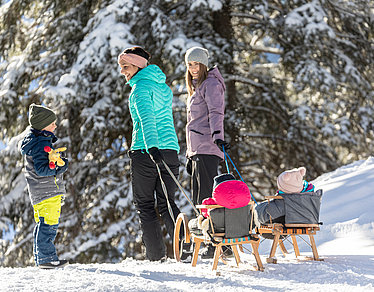 There are six toboggan runs to choose from in the Zillertal Arena. Length is not always important, but by one in Gerlos it is: It winds its way through the winter forest over 7 kilometres, making it the longest in the Zillertal valley. It is illuminated until 1 a.m. for the night owls and invites you to toboggan under the stars. A stop at the Hüttn helps against cold feet!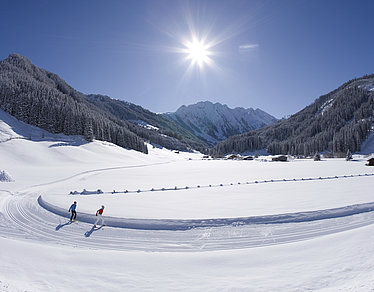 A GLIDING EXPLORATION OF GERLOS
Short or cross-country skiing - it is always healthy! It uses 600 (!) muscles, is easy on the joints and burns all those holiday calories into the wintry thin air. Whether skating or classic - in Gerlos there is something for everyone. Perfectly groomed trails lead from the village into picturesque side valleys. A special highlight: the high-altitude trails at the Königsleitenspitze and in Hochkrimml.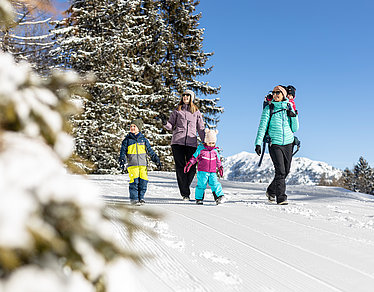 Red carpet? We don't need that in Gerlos, because Mother Hulda rolls out a sparkling white carpet right in front of the hotel! Winter hiking makes you feel like a real star - and it is no wonder with the glamorous snow backdrops and cinematic panoramas. Many tours start right at the hotel and lead to the Wimmertal, Schwarzachtal or Schönachtal, among others.